I've been having some difficulties posting Thankful Tuesdays on Micha Boyett's
Mama:Monk
site. It wouldn't even allow me to post a comment with my blog's link or a copy of my thankful list, so, yes, I am reconfiguring my posting week once more...Monday's gratitude lists will be linking up with Ann Voskamp at
Holy Experience
again, not sure what we'll do on Tuesday, but I like having Artful Wednesday since that gives me a couple days to come up with something for the
Diva Challenge,
and well, we'll fill in the rest of the week with meme's or some other silly ramblings if ya'll still care to follow along with me...
It is Birthday Week here--woot woot!! My husband right now is saying, "Week?? What happened to Birthday Month??" Yes, I'm a great big giant birthday hog--but maybe it's time to scale back just a little...A week of celebrating is good, plenty actually, when you're rounding those middle-aged bends. *...Sigh...* Lots of happy plans in the mix already: Lunching with my Bug and uncle at the
Harmony Inn
(some say it's haunted, don'tcha know!) followed by visiting Ripple and shopping at the
Emporium
(a fave mentioned
yesterday
.) Ripple is the resident pit bull at the Emporium and a total sweetie! I think he and Tucker could be best buds!! Or at least a whole lot of trouble...
Monsieur Ripple
Then there's the fair with friends and family and
Rusted Root
tomorrow night! And more family coming up for a cookout on the Fourth...I think it's gonna be a great week!
And on to continuing counting His gracious gifts:
472. Being absolutely silly with Bug and laughing like fools
473. Pennies under the donut counter at Sheetz (it's a long, or at least goofy story....but one cashier knows us on sight now...)
474. Tangle therapy time! Pics Wednesday...
475. Handsome pic of my love all dressed up (sorry, it's on my phone--this is my camera neglect week--so many opportunities missed!!)
476. Reading this scripture in a blog: "It is finished. Rest in His Word."-Matthew 15:28 And, yeah, I cried...I know, big shock.
477. An afternoon with friends and! (478.) Clyde (pic is also on phone--augh!!) but he is this GORGEOUS Siamese kitten with the most incredible blue eyes I've ever seen (479.) Baby peeps
Thank you Jenn, for posting the pics on Facebook!
(480.) Baby calves sucking on fingers--melt my heart, I'm in love!!! So many down on the farm, "Ann Voskamp" moments and I blew it by not bringing the camera!!
481. The most amazing sunset and rainbow (stole this pic too, from Marcia...)
482. A singing toad-so sweet!!
483. A good showing--prayers please!!!
484. God's never failing provisions
485. Appointments all scheduled, good and bad--more prayers, please!!
486. A long weekend of pet sitting our favorite neighbors: Scooby, Holly, and Maddux
487. Weeding with Bug--we actually had fun, okay we had a moss throwing battle, but it got the job done and we laughed like idiots again
488. Totally hooked on Draw Something (not sure this is something to be thankful for, but it's too much fun!!)
489. Lotsa birthday plans!!
490. Crazy dancing Bug who totally reminds me of his sister at this age...
491. A forty cent graph paper composition book to keep track of tangle patterns--now just need the time to fill them all in!!
492. This
prayer
this morning:
My Father, save me from the habit of borrowing. So often I borrow trouble and cannot use it, when the peace that I possess is all that I need. Help me, that I may not miss the glory of to-day, by anticipating the uncertainty of to-morrow; but may I discern my place and have delight in every day.
Okay, maybe I need to not do !! so much, just over-excitement. It's either that or lots of emoticons...Maybe you'll join us in counting: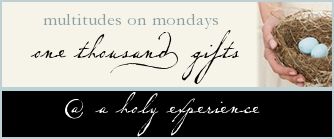 Download your own July gratitude calendar
here.